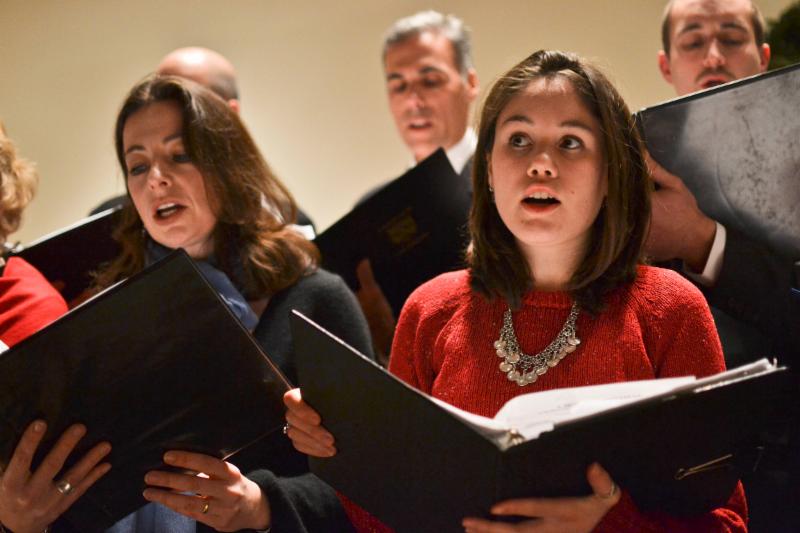 Friday, Dec 20th at 7pm
Barnard's First Universalist Church, Rt 12
directed by Michael Zsoldos
BarnArts Holiday Chorales begin rehearsing on November 18th! 
Rehearsals:  Monday, Nov 18***(canceled), 25, Dec 2, 9 & 16, dress rehearsal Thurs, Dec 19
Three Chorales this year!
     Teens: 5-5:50pm (pre-teens by permission)
     Adults: 6-7:30pm (older teens by permission)
     Youth all ages and abilities: 5-5:30, meets every other week (Nov 18, Dec 2, Dec 16 & 19)
New this year, we will have 2 levels of involvement for youth.  We will have a small group of 4-8 youth learning 2-3 songs with harmony and parts – this is the "Teen Chorale."  A larger group will join for all-group singing.
Rehearsal Location: Barnard's First Universalist Church, 6211 rt 12, Barnard, VT
Please contact Linda @ BarnArts to sign up for the chorales.
***Due to hazardous icy roads predicted our first rehearsal, Nov 18th is canceled.  Rehearsals for all groups will begin on Nov 25.  An option make-up is offered for Dec 12th.
 * *
Winter Carols is BarnArts original event and the highlight of our Winter programming.  Don't miss this festive opportunity to join with neighbors and friends and celebrate the season as a community. Winter Carols includes audience sing-alongs as well as instrumental and choral performances.
Winter Carols is free, a gift for the community from BarnArts.  Please join us!
BarnArts welcomes community for 9th Annual WINTER CAROLS 
The First Universalist Church and Society of Barnard will host BarnArts 8th Annual WINTER CAROLS at 7 p.m. on Friday, Dec 14.  Admission is free for this 75-minute performance under the direction of conductor Michael Zsoldos.  Choral performances by the BarnArts Youth and BarnArts Chorale are mixed with musical performances by local musicians, and the evening includes audience sing-alongs and a candle lit ceremony. 
WINTER CAROLS is BarnArts original event and is provided free to the community as a gift, to encourage all to come together and celebrate the season with song. 
Based in Woodstock, conductor Michael Zsoldos is a graduate of the Eastman School of Music and Michigan State University where he studied with Branford Marsalis. His current performances projects are "Music for Loving: A Tribute to Ben Webster", the Miro Sprague Quintet and The Convergence Project. Michael composed and performed the music for the 2017 documentary Seeing Through The Wall: Meeting Ourselves in Palestine and Israel. Michael is a lecturer in classical saxophone at Dartmouth, the instrumental arranger of the Dartmouth Gospel Choir, and a faculty member of Interplay Jazz and Arts and the Vermont Jazz Center's Summer Jazz Workshop, where he teaches jazz improvisation and leads jazz combos.