The live event took place on Dec 18th, but the video can be enjoyed anytime!
This 38-minute video presentation includes a NEW performance by the BarnArts Chorale, plus new recordings put together by Michael Zsoldos, Trifolium, Mark van Gulden & Kathleen Dolan, three sing alongs led by BarnArts Youth, PLUS an 8-minute celebration of 10 years of WINTER CAROLS in song, video & photos, compiled from all performance years – 2011-2019!
Dec 18th Live event:
BarnArts will be holding its 10th Annual WINTER CAROLS at 7 p.m. on Friday, Dec 18th as a virtual event for all to enjoy safely from home. Under the direction of conductor Michael Zsoldos, this year's Zoom WINTER CAROLS will include a new choral performance by the BarnArts Chorale, a sing-along led by BarnArts Youth and new musical performances by local musicians. WINTER CAROLS is BarnArts original event and is provided each year to the community, encouraging all to come together and celebrate the season with song.  
Singers will rehearse and record themselves on their own, and Zsoldos, along with guitarist Jason Ennis, will be compiling the recordings into a united choral ensemble.
New musical performance will be provided by Zsoldos, Ennis and pianist Michael Eckroth, Trifolium and ArtisTree duo Mark van Gulden and Kathleen Dolan.  Zsoldos, Ennis and Eckroth are professional jazz musicians and they will combine their talents for a jazzy holiday set. Trifolium is a local traditional string group comprised of Andy Mueller, Justin Park & Chloe Powell.  All three performing groups participate yearly in the usual WINTER CAROLS event, which is normally held at the First Universalist Church and Society of Barnard on the third Friday in December.
This year's Zoom will also include some minutes of recorded video, audio and photos from previous years performances, allowing this virtual experience to be a real celebration of 10 years of WINTER CAROLS!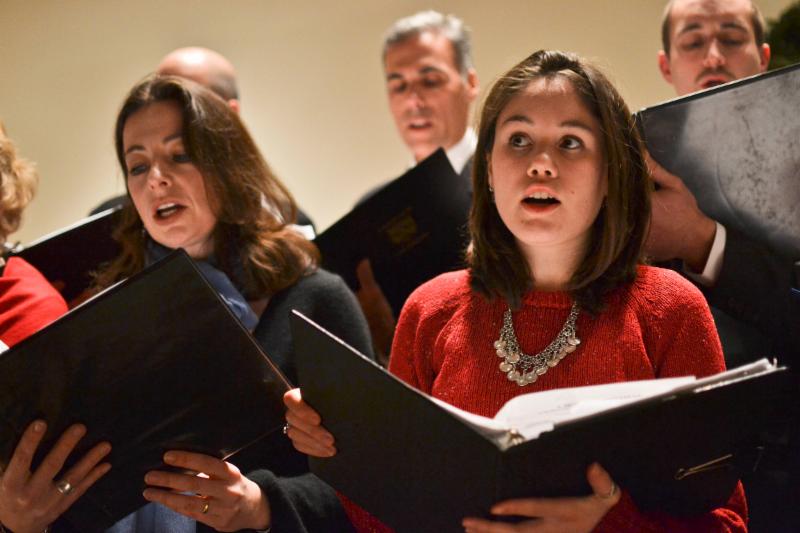 * * 
Winter Carols is BarnArts original event and the highlight of our Winter programming.  Don't miss this festive opportunity to join with neighbors and friends and celebrate the season as a community. Winter Carols includes audience sing-alongs as well as instrumental and choral performances.
Winter Carols is a gift for the community from BarnArts.  Please join us!
Based in Woodstock, conductor Michael Zsoldos is a graduate of the Eastman School of Music and Michigan State University where he studied with Branford Marsalis. His current performances projects are "Music for Loving: A Tribute to Ben Webster", the Miro Sprague Quintet and The Convergence Project. Michael composed and performed the music for the 2017 documentary Seeing Through The Wall: Meeting Ourselves in Palestine and Israel. Michael is a lecturer in classical saxophone at Dartmouth, the instrumental arranger of the Dartmouth Gospel Choir, and a faculty member of Interplay Jazz and Arts and the Vermont Jazz Center's Summer Jazz Workshop, where he teaches jazz improvisation and leads jazz combos.